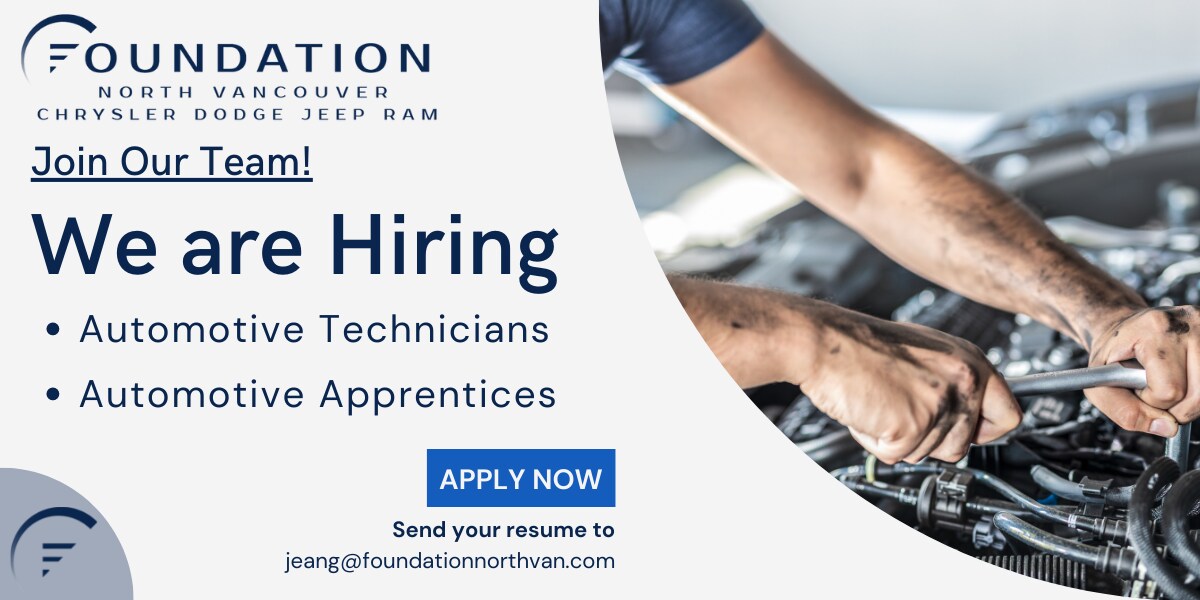 Have you ever wanted to become part of a group of experts? Do you want to be the best in the area at what you do? At Foundation Auto North Vancouver Chrysler Dodge Jeep® RAM, we're hiring excellent technicians for our service center, and we're ready to provide you with the tools, training, and equipment you need to become the best you can be.
The Benefits We Offer
We ensure that our team is taken care of in all their needs. We have generous health, dental, and disability insurance policies, as well as uniform assistance and paid training. You'll have both sick and vacation days so that you can choose when you need time off, and you'll even have the opportunity to get holiday pay. Our state-of-the-art facility has everything you need to succeed.
Joining Our Team
Our team is more than just a group of people who get together to work. We're a well-oiled machine, with every person playing their part to get the job done right. Our goal is to help you become the best you can be at our service center, and we'll support you and help you with your professional goals as an automotive technician. We truly care about our employees, and we're dedicated to doing what's best for them so that they can do what's best for the customer.
Essential Duties & Responsibilities:
Accept repair orders from the dispatcher and take cars to the stall area.
Carry out the work on the repair order with accuracy and efficiency, following all dealership and factory standards.
Find out the cause of malfunctions and repair them as authorized.
Obtain necessary parts by entering into communication with the Parts Department.
When the job is under warranty or requested by the customer, tag parts and set them aside to be turned in.
Let the service advisor know of any changes to a job's schedule, e.g., work outlined isn't needed, repairs can't be performed in the allotted time, or additional work is needed.
Maintain sufficient documentation.
Address all customer complaints and ensure they're met through road tests.
Participate in quality checks.
Go to training classes.
Stay updated regarding factory technical bulletins.
Maintain the cleanliness of the vehicle you're working on.
Carry out all safety and housekeeping procedures accurately.
Come to know all regulations regarding service repair work, including all federal, state, and local regulations.
Submit Your Application for a Job With Us
We're excited to meet you and see how you'll fit in with our team. If you think you can manage the responsibilities listed above, go ahead and submit an application online or in person at our service centre!